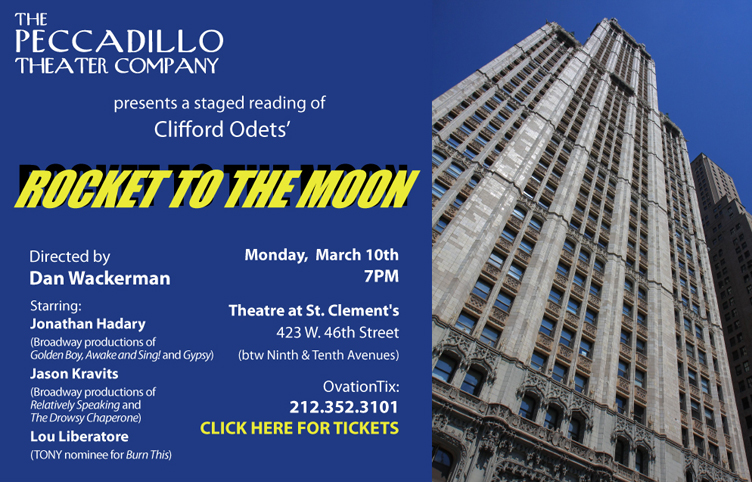 The-Plays-You-Should-Know-But-Probably-Don't
Reading Series
to benefit...
The Peccadillo Theater Company
celebrating 20 years of producing classic American theater!
1994 - 2014
Tickets:
Regular Seating (only): $25
Regular Seating & Reception: $50
Premium Seating (only): $50
Premium Seating & Reception: $100
Clifford Odetsís Rocket to the Moon was first produced for the stage by the Group Theatre in New York in 1938. Like its predecessor, Golden Boy, the play signaled a move on the part of Odets away from the more overtly political drama of his earlier plays towards a drama more focused on interpersonal relationships and the pressures of life on the individual.
In the oppressive heat of a stifling New York summer,the waiting room of a dentistís office serves as the backdrop to the mid-life crisis of Ben Stark, who attempts to escape the confines of his life by having an affair with his secretary, Cleo. In the play, Odets develops many of the themes familiar to his audience from his earlier (and more overtly political) plays: economic pressures, the ability of the individual to rise above his circumstances, and the effects of personal responsibility on ambition. Rocket to the Moon occupies a significant place in the ouevre of Clifford Odets, in spite of the fact that this tender, richly psychological play is little-known and rarely produced. As such, it represents an ideal choice for Peccadillo - a company dedicated to keeping the lesser-know works of the golden age of the American theater alive and in front of an audience.
We would like to express our deep gratitude to Walt Odets for providing permission to present this one-night only staged reading of Rocket to the Moon to benefit The Peccadillo Theater Company. The Peccadillo Theater Company is an IRS 501 (c) 3 not-for-profit arts organization. All contributions are tax-deductible to the fullest extent of the law.